What is River of Life?
River of Life is a body of believers who come to WORSHIP TOGETHER – We are a Book of Acts Church. We also SERVE TOGETHER –We are relationally based. We also LEARN TOGETHER- we want to serve this generation.
About our worship
Our Pentecostal way of worship is vibrant and guided by Biblical principles. We affirm the Bible's command to exercise a variety of "spiritual gifts" in our services (1 Cor. 14:26). We believe that our services should demonstrate a diversity of worship expressions in a unified corporate setting. At our services you will enjoy regular times of singing, congregational prayer, and worship through the ministry of God's Word.

What to Expect When Visiting an Assemblies of God Church
Variety … that's what you'll find when you visit our services. But one thing you should expect in every Assemblies of God church is a personal, uplifting worship experience. Our services are geared for participation. We worship as we live, with enthusiasm.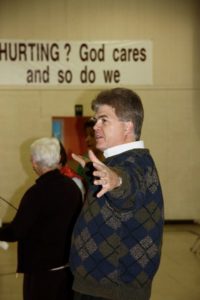 Sunday
Worship -10:30 am

Sunday School – 9:30 am

Adult Sunday School (Main church building)

Kid's Church (Ages 6-12, Gym) – 10:30 am

Junior Kid's Church Ages 3-5, Gym) – 10:30 AM
Wednesday
Church-Wide Adult Bible Study (Fellowship Hall) – 7:00 am

Authentic Youth (Youth Hall) – 7:00 pm

Royal Rangers and Mpact Girls (Gym) – 7:00 pm
Our History
The Assemblies of God has its roots in a religious revival that began in the late 1800s. In 1914 both preachers and laymen gathered from 20 states and several foreign countries for a "general council" in Hot Springs, Arkansas. Learn more about our history. For extensive historical and archival information, visit the Flower Pentecostal Museum
Our Beliefs
The 16 doctrinal standards of the A/G can be found in our Statement of Fundamental Truths. As the need arises to make a statement on a controversial issue, leaders of the fellowship approve an official statement. These statements are better known as position papers.
Statistics
More than 3.5 million people worship in over 13,000 Assemblies of God churches across the United States. Statistical data is collected each year for the ministers, ministries and missions work of the f
ellowship.
Affiliations
The Assemblies of God is a member of four national and international Christian organizations. These include the National Association of Evangelicals (NAE), the Pentecostal and Charismatic Churches of North America (PCCNA), the Pentecostal World Fellowship (PWF), and the World Assemblies of God Fellowship (WAGF). The church's leadership also participates in many sub-groups of these organizations.
The Assemblies of God is not affiliated with either the World Council of Churches or the National Council of Churches.