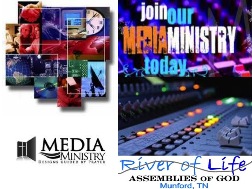 River of Life Media Ministry
Please answer the following questions:
Were you called a computer geek in high school?

Are you an early adopter of all things digital?

Are your iPhone, iPad, and iMac sync'd so that your emails, texts and iCloud are shared?
Can you change batteries in a hand held microphone?
If you can answer yes to any of these questions, you are a candidate for the River of Life Media Ministry. Your faithful participation in the digital church world allows us to reach a whole new generation of people whose lives are run by their Gmail calendar.
Your help is needed, full-time and or part-time, to:
Work in the sound booth Sunday morning or Wednesday night.

Take pictures at various events for publication

Make copies of programs on CDs for distribution.

Extract audio portions of sermons for the website.

Make podcasts for the website or your phone.

Set up sound system for programs.

Change the batteries in the microphones.
All you really need is a willing heart and we will train you.
For more information, contact Jeremy Payant at: rolcmedia@gmail.com